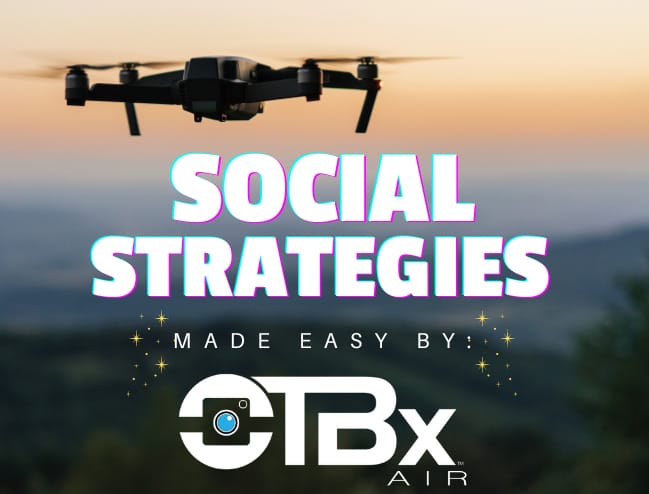 Are you a realtor looking to take your marketing strategy to the next level? Do you want to connect with your audience on a deeper level and build a stronger brand presence? Look no further! We have the perfect solution for you – the Social Blitz package!
Content creation is a game-changer in today's digital landscape, and we understand the power it holds for real estate professionals like you. That's why we're thrilled to present the Social Blitz, a comprehensive content creation package tailor-made to boost your brand awareness and engage your target audience effectively.
What's Included in the Social Blitz Package?
Up to 10 High-Quality Videos: Videos are the most engaging form of content today, and with the Social Blitz package, you'll get up to 10 professionally crafted videos to captivate your audience. From virtual tours of your latest listings to showcasing unique homes and sharing valuable tips for homebuyers and sellers, the possibilities are endless.
5 Hours of Shooting Time with a Specialty Videographer: We believe in providing nothing but the best for our clients. That's why the Social Blitz package comes with 5 hours of shooting time with a specialty videographer who knows the real estate industry inside out. They'll capture every aspect of your brand and properties, ensuring your videos are top-notch.
Dedicated Project Manager: We understand that your time is valuable, which is why we've assigned a dedicated project manager to oversee the entire content creation process. From planning the shoot schedule to coordinating with the videographer, the project manager will ensure everything runs seamlessly.
Why Choose the Social Blitz Package?
Boost Your Brand Awareness: Engaging and informative videos are an excellent way to make your brand stand out in a crowded real estate market. With the Social Blitz package, you'll be able to showcase your expertise, personality, and unique selling points to a broader audience.
Establish Thought Leadership: Position yourself as an industry expert with valuable content that answers your audience's most pressing questions. From market updates and analysis to home buying and selling process walkthroughs, your expertise will shine through.
Improve SEO and Online Visibility: Search engines love fresh and relevant content. By consistently creating videos with the Social Blitz package, you'll boost your website's search engine rankings and increase your online visibility, attracting more potential clients.
Engage and Inform Your Audience: Content that resonates with your audience builds trust and loyalty. Whether it's providing home staging tips, discussing the impact of interest rates on the real estate market, or exploring different types of home ownership, the Social Blitz videos will keep your audience coming back for more.
Generate Leads and Drive Conversions: Compelling videos have the power to convert viewers into clients. With the Social Blitz package, you'll create a strong connection with your audience, leading to more leads and ultimately, more successful transactions.
Content creation is a must-have tool for any real estate professional looking to thrive in today's competitive market. The Social Blitz package offers you the perfect opportunity to harness the power of videos and take your marketing strategy to new heights. Also maximizing ROI (Return on Investment) is crucial for any real estate professional looking to make the most out of their marketing efforts. Here are ten content ideas, tailored to the Social Blitz package, that can help you achieve a higher ROI:
"Exclusive Insider Tips: Real Estate Investment Opportunities": Share exclusive insights and tips on lucrative real estate investment opportunities in your area. Show potential investors why working with you can lead to profitable ventures.
"Neighborhood Spotlight: Highlighting High-Value Areas": Showcase the most sought-after neighborhoods in your region, discussing their unique features, amenities, and potential for growth, attracting both buyers and sellers.
"The Ultimate Home Buying Guide: From Pre-Approval to Closing": Create a comprehensive video series that takes prospective buyers through every step of the home buying process, positioning yourself as their go-to realtor.
"Market Trends Explained: Quarterly Real Estate Reports": Provide quarterly reports on the real estate market, analyzing trends, and presenting data-driven insights, demonstrating your expertise as a market-savvy realtor.
"Exclusive Listings Preview: Early Access for Subscribers": Build an email subscriber list by offering exclusive early access to new listings before they hit the market. This can incentivize potential buyers and sellers to subscribe to your updates.
"Ask Me Anything (AMA) Live Sessions: Real-Time Q&A": Host live video sessions where your audience can ask you anything related to real estate. This interactive approach builds trust and a sense of community.
"Client Testimonials: Stories of Successful Transactions": Highlight success stories from your satisfied clients. Testimonials have a significant impact on potential clients and can lead to increased referrals.
"Real Estate Myth Busters: Debunking Common Misconceptions": Address common myths or misconceptions about the real estate industry. This educates your audience and positions you as a reliable source of information.
"Local Business Spotlights: Supporting Your Community": Partner with local businesses and feature them in your videos. This fosters community connections and may lead to reciprocal promotion.
"Expert Interviews: Collaboration with Local Influencers": Collaborate with local influencers, industry experts, or well-known figures in your community for interviews or co-created content. This can expand your reach to new audiences.
Remember, to maximize ROI, it's essential to track the performance of your content and adjust your strategy accordingly. Analyze metrics such as engagement, leads generated, conversions, and sales, to identify which content ideas resonate most with your audience and deliver the highest return on investment. By consistently producing valuable and engaging content, you'll establish yourself as a real estate authority, attract more qualified leads, and ultimately see a significant boost in your ROI.
So, what are you waiting for? Get started on your content creation journey with the Social Blitz package today! Connect with us, and let's create content that elevates your brand and sets you apart as a real estate leader in your market. Remember, the time to start creating impactful content is now!