There are so many business opportunities to be had at every event. Events are the perfect way to network, connect with clients and meet interesting new people. If you're looking to get in front of new people, connect with old colleagues and learn from the best, it's time to start attending more events as they happen. In this blog, we'll share tips on making the most of events, whether you are an attendee, sponsor, or speaker!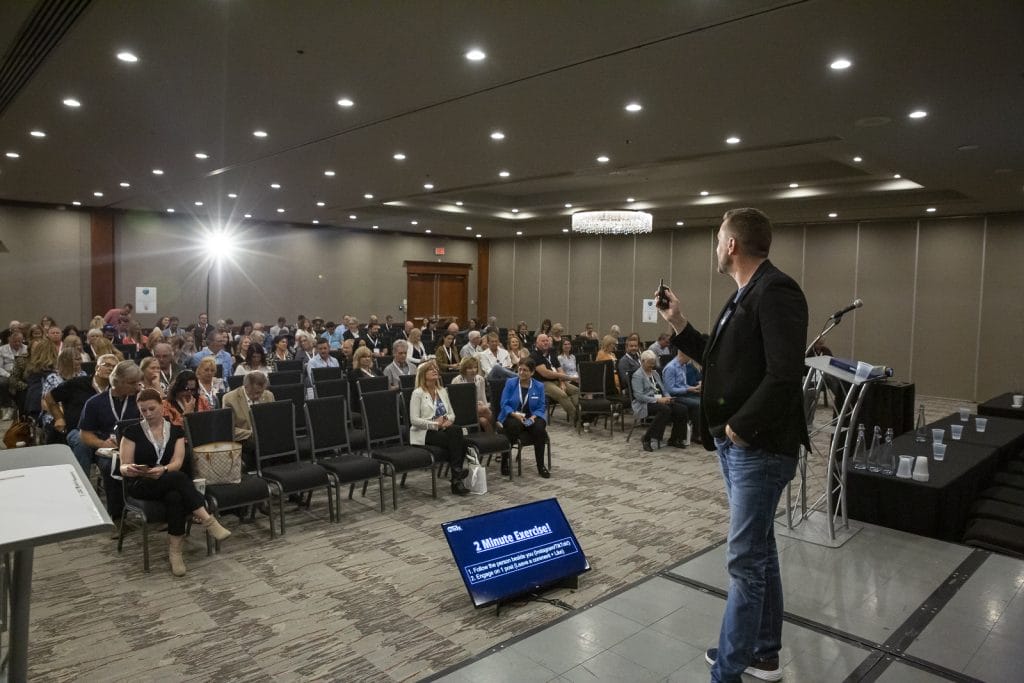 Whether you are the event organizer or an invited speaker, here are some tips on how to maximize your RIO as an event speaker (and for your event speakers):
Make self-promotion easy. Give them your conference's unique hashtags and taglines so they can easily promote and share the event on social media.

Make an eye-catching event packet that contains everything within one place and send it to the speaker and their promotion team.

Provide a preview of what to expect. Raise awareness of the keynote speaker's expertise and insights among attendees and audiences who may be engaged in the content.
Leverage social media to build up hype.

Facebook is the most adaptable engagement platform. Almost any type of content, including video, long posts, and images, performs well on this platform. 

Instagram lets you share inviting photos of your event, including behind-the-scenes footage to keep your audiences engaged.

You're missing out on a large audience if you don't use YouTube to market your keynote. Share previous conferences to show previous events. 

Twitter helps you spread information in bite-sized chunks. It also allows people to tweet about the keynote speaker before, during, and after the event.

As a speaker, you may be accustomed to getting the most out of your own events. But I bet you're unfamiliar with all the opportunities for engaging attendees before and after your events. Attending events can be a time-consuming and expensive process, but it's also one of the most effective ways to grow your business. Here's how to maximize your ROI as an event attendee: 
Lastly, when whether you are supporting other businesses or your partners are supporting you, here are effective tips to boost your event ROI with sponsorships: 
Influencers All The Way. Consider including valued "influencers" rather than valued "sponsors" in your conferences. This strategy can add many new elements to your event. An influencer can be a valuable asset to your event marketing efforts. The more a sponsor participates in the conference as an "influencer" from the content to future program ideas, the more invested they become in the success of your event.

Include Your Influencers as Audience. When considering your organization's conference goals and objectives, remember to include sponsors (these influencers) as part of your audience. Treat your partners as if they are conference VIPs. Allow partners to build rapport with those they want to meet the most. Simple additions such as VIP social functions provide a significant amount of benefit to your valued partners.

Make Rich Content Possible. Allow your partners to host a conference breakout session or participate in a panel discussion. Look to your partners to improve the content by including case studies and informative materials on your strategy. Attendees appreciate seeing real-world examples to bring home with them. These sessions work best when they are centered on success stories and problem-solving rather than sales pitches.

Keep The Connections. Demonstrate that your relationship with your partner is more than an annual occurrence. Include partnership and endorsement elements that occur outside of your conference. Involve your key influencers in the form of an advisory board to get great feedback and collaboration on strategies. To keep the partnership alive throughout the year, develop a marketing strategy that includes social media, webinars, content development, and other tactics.

Exceed the Expectations! By incorporating marketing elements such as these into your sponsorship combos, you can easily see that sponsorship is about more than just collecting cash from your partners. You can increase the impact of your events by strategically positioning your sponsors as integral stakeholders in your conferences, allowing your partners to be powerful influencers.
In today's world, events are no longer the simple meet and greet. Events are a great marketing tool to generate leads and create more business opportunities. It helps you connect with influencers to build your personal brand and grow your next revenue stream. Support your influencers and make more business with these tips. Share your tips with us too, or join us at our next event! We'd love to meet and know more about you.
We can help turn your events into a success. Let OTBx make your events memorable for your audiences!