Make this fathers day special by capturing some candid moments and bringing photos to life with these four unique photoshoot ideas for dad! A candid and unique photo album will be a hundred times more valuable and heartfelt then any store bought gifts and last minute arts and crafts. This, we've compiled a list of our top four creative and special photo ideas that are easy to shoot and put a smile on dads face this fathers day! 
Candid gift opening shot
The best shots are always candid and filled with sincere emotions that really make the picture genuine and special. Try taking a picture with your child presenting a gift to dad to capture his surprise and love! Make sure to wrap the gift tidy and well while capturing or recording dad open it! Have the kids write on the wrapping paper something sincere and heart warming like "I/we love you" or "congratulations" and "happy fathers day". This addition will add on a new layer of excitement and suit the photo even more for a memorable shot of genuine emotion!
Walk in Nature 
Taking a peaceful walk in nature, a nearby forest, park or even green space can be very relaxing for a hard working dad. Finding some nature and taking a photoshoot can prove to bare a beautiful fathers day photo dad is sure to charish for a long time. You can also come up with new ideas and poses depending on the nature and environment around you, for example, safely climb a small tree and pose in it for a photoshoot, or on the top of a hill, or by a body of water, the possibilities are endless! You can even gain some bonus points for dressing the part and matching some cool outdoor gear! In the end, you spend some time outdoors in nature and create memories that will last dad a lifetime! 
Trying on dads clothes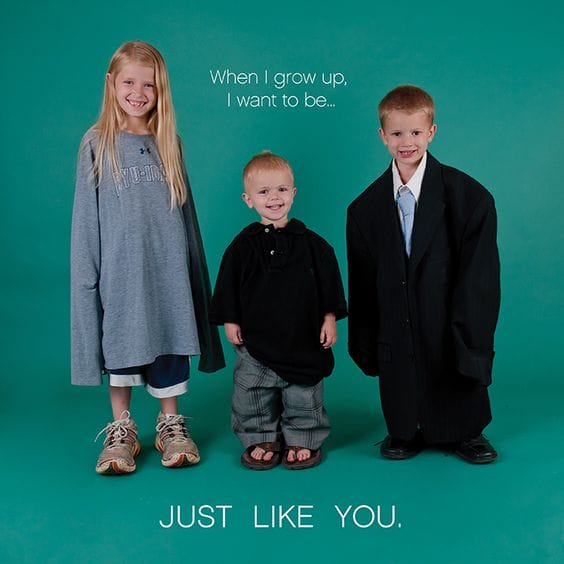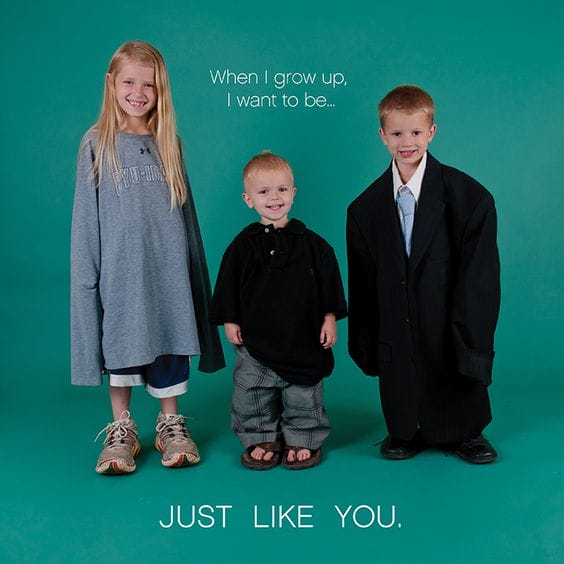 Nothing makes dad feel more special then the feeling of legacy and proudness. When hes not home, take some of his grown up clothes and pose! You can try on a suit or dress shirt, uniform of any sort if he has it, colorful ties, big hats and even pajamas! Try using some props as well, maybe a empty coffee mug, or newspaper, some tools or hobbies will also make for great special effects! Most importantly, have fun with it! Smile and laugh to show dad how much the kids desire to be like him and look upto him! This ones for sure going to melt his heart. 
Surprise family photo for dad 
Even if it is fathers day, its never a bad idea to involve mom in the photo session! For this idea, take a photo in advance of fathers day, for example you could take a photo with mom surrounded by her children holding a bouquet of flowers, a tablet with kind words of love for dad,  or a holiday card, or the kids! This idea is sure to jerk some tears as dad will always have something to remember his family by.